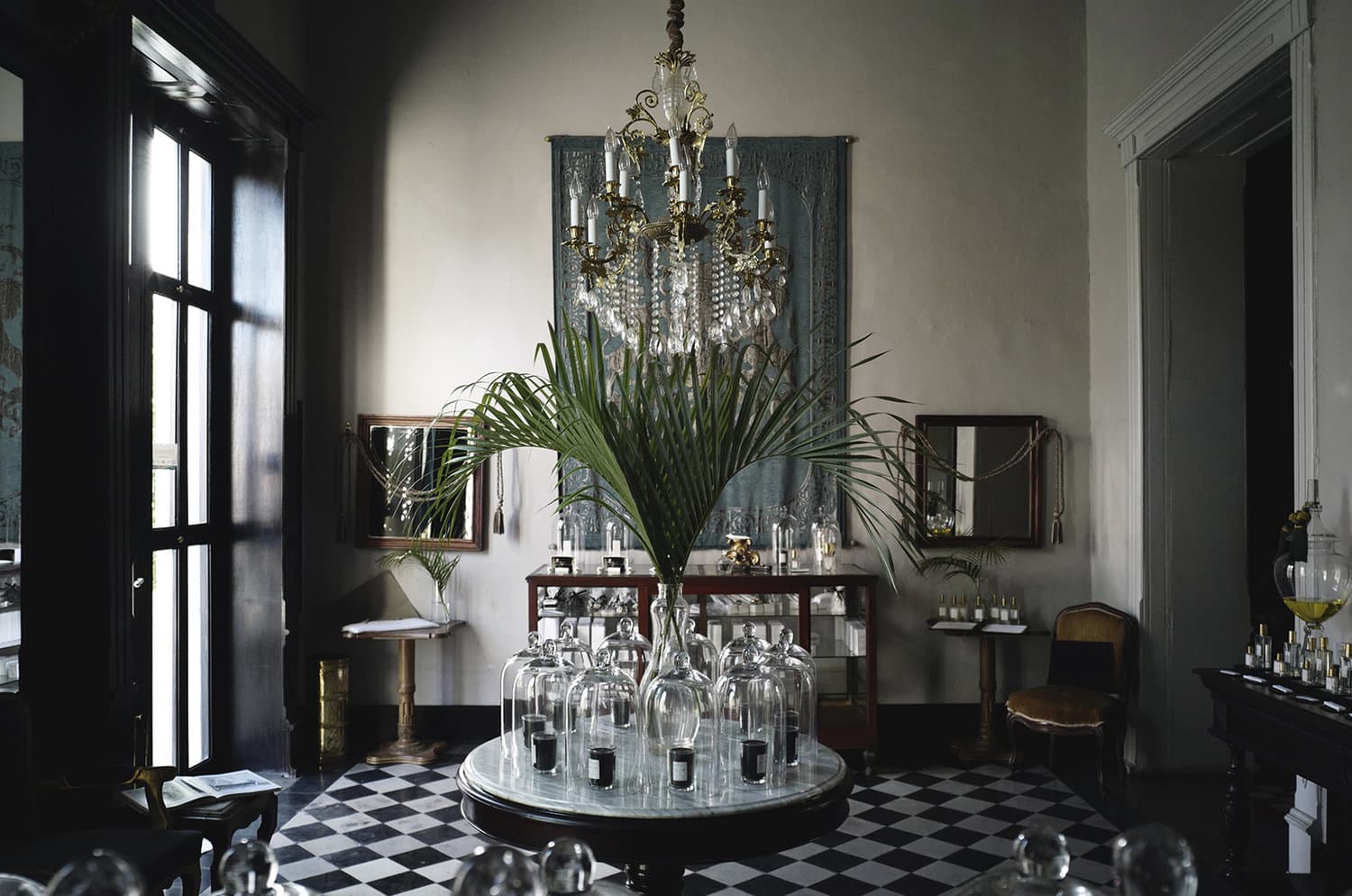 Discover 7 Luxury Boutique Hotels
There is something quite exquisite about staying in small boutique hotels, and if you follow my blog posts on Trends, you'll already know how passionate I am about luxury travel, that reflects an understated experience. The question is, why should you stay in a small boutique hotel, over a luxury resort? 
Well, as hotelier and luxury travel guru Ian Schrager once said, you are where you sleep because where you sleep says to the world; this is who I am. My response, which I revealed in NYC, I sleep in places that reflect my unique character. In fact, I stay in the small best-designed apartments from a company I have founded myself, mysuites&co. This clearly states who I am. Proud and appreciative of small beautiful spaces. 
Why I Love Small Boutique Hotels
So back to the questions of small boutique hotels. Well, I certainly don't need eye-candy pool-side waitresses to bring me cocktails to experience luxury travel. Neither do I need to affirm my personality by sleeping in dorms branded as boutique hotels. Today I represent a niche of stylish luxury travel enthusiasts who are searching for an authentic and understated experience, that has little to do with the latest in design trends and more to do with the discovery of a story. What makes these small hotels unique? The urban context and authenticity. That said, I do enjoy a well-designed and thought-out space, but it must complement the story, not simply be aesthetically pleasing. 
When I founded this company SLH, it has moved on from a passion for boutique hotels to now having the goal of empowering and giving a voice to small hotel businesses, whether they are family-owned or independently run. So, without further adieu, here is my personal selection of the top 7 small boutique hotels based on places where I feel connected to and portrays a wonderful story. Each has an authentic message which will help you to fall in love. 
Why 7 hotels and not a top 5 or top 10 list I hear you ask! Well, I'm not one to care much about Tripadvisor style articles, and it's simply the number of boutique hotels that have caught my attention and I'd like to share with you.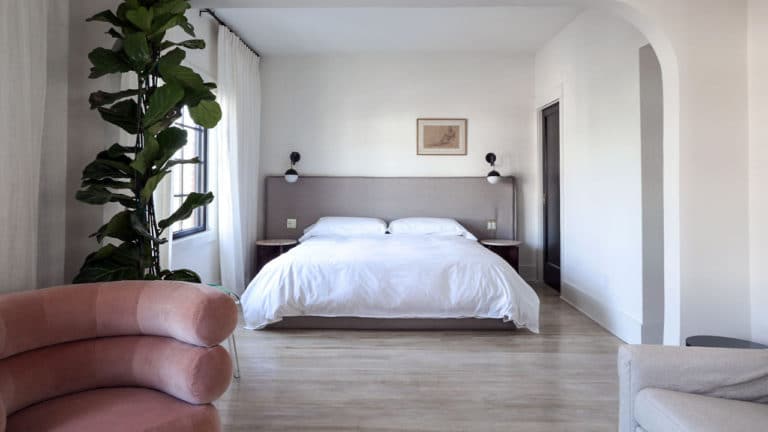 1: Hotel Covell in Los Angeles
There is a heart-warming story about the owner, Dustin Lancaster that I'd love to share with you. With humble beginnings, Dustin began his career as a dishwasher in a Tex Mex. He then pursued his dream to open a small hotel, with really no clue on how to get started. He didn't have an idea about styling or running a boutique hotel and he had no previous experience as a hotelier. Dustin simply stayed true to his heart and went after his dream!
This is what I love about discovering boutique hotels. But the story doesn't end there. The Hotel Covell is a typical Suite life Hotel. It features a small building where the apartments are turned into suites, preserving the feeling of a stylish home with a fully equipped kitchen. The outdoor location and visual appearance reinforce the experience of walking into a home, not a hotel. Each apartment suite has its own unique story and decor, and that is why small hotels offer a much more personal experience. 
hotelcovell.com | Los Angeles, CA  |  9 suites
2: Coqui Coqui Coba, Yucatan Mexico
These guys make perfume, and some truly beautiful scents. So, what better sensual experience than sleeping in a luxury hotel that designs and creates it own perfume. What a delight! 
The story of making scents in the Yucatan is not new information, in fact, it dates back 300 years when the Spanish conquered the peninsula. What is new though, is the combination of hotel and a 'Perfumeria". The colonial and decadent inspirations make the rooms extremely rich in decor and detail; a true and authentic inspiration, that is rooted in the colonial era of each town.
If I had to pick one suite at Coqui Coqui Coba, it would have to be the Merida Epicerie suite, in the Belle Époque Building. This gorgeous place reflects the past opulence when Merida was the wealth concentration of the Yucatan. It is just one suite in the house, but there is a cafe and a spa to enjoy.
Coquicoqui.com  | Coba, Mexico | 4 suites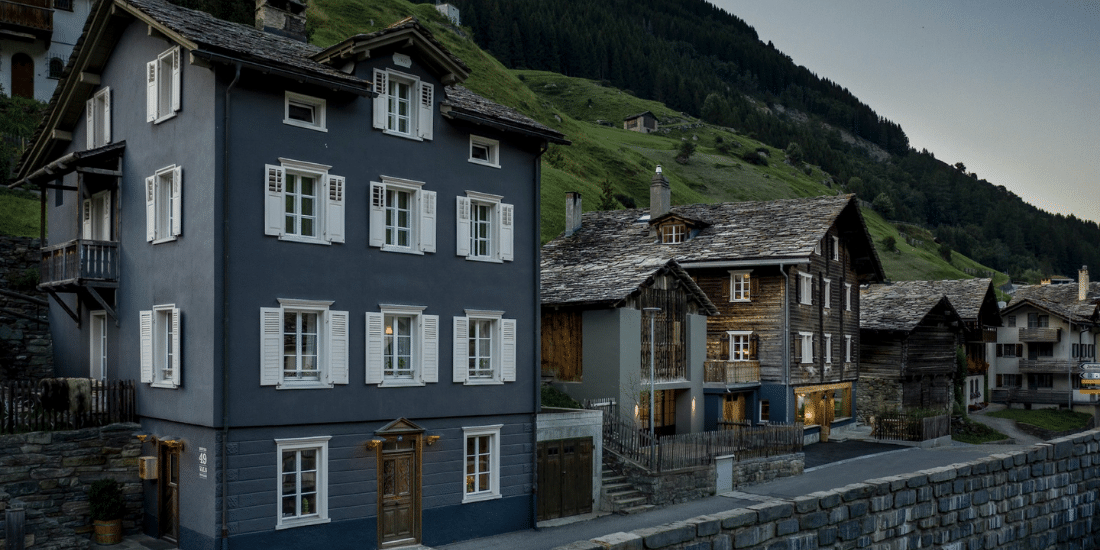 3: Brucke 49 Pension
There is something quite special about Danish design and style, and although this hotel is in Switzerland, it is definitely somewhere I will stay and experience personally, and for two reasons. One, to be surrounded by the most beautiful mountainous landscape, and two, to become fully immersed in a cozy Scandinavian design. There are no Mountains in Denmark, so here you get the best of both worlds: Switzerland and danish design.
Also please note: the name is not a hotel but pension, which obviously comes from the Italian word Pensione. A way to define old-fashioned hospitality, where people stray and also take meals. It always reminds me of the Parisian pensions, in the 6 arr, where artists used to actually live. Just in case you are into these out-of-time experiences, check pensions ladagnou, rue d' Assas Paris. I stayed there once towards the end of the '90s as a student, and most likely is the best memory in terms of hospitality based on experiences, not design!
Why would I sleep here: forget the boutique Hotels saga.
Brucke49.ch. | Vals Switzerland | 4 suites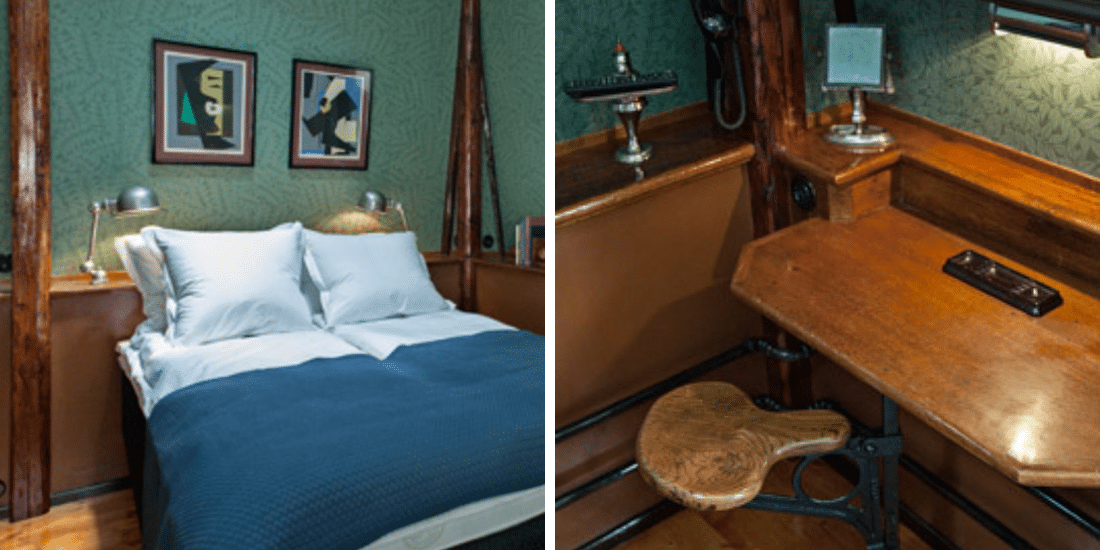 4: Central Hotel
 

& Cafe – Copenhagen

 

Growing up in. Italy I became used to discovering bar Centrales in almost any city or small town I came across. For people that grew up in a post-war generation, like my father, the Bar central was basically the only bar in town, at the time, where everyone knew each other.

The Central Hotel in Copenhagen, above the actual cafe, is just ONE room. A very personal space, made over the years by the designer/owner and has turned out to be like a little bunker, where you could imagine kids would never like to leave. It does not feature typical Scandinavian design but is more a type of design that builds over time, perhaps a bit like a fine wine.

But the true experience is to be had in the morning. Breakfast is served just below the room, in the cafe and a 3-course meal is offered at the cafe Granola down the block.

Why Would I sleep here? Simply to experience staying as the only guest in the hotel!

Centralhotelogcafe.dk. | Copenhagen | 1 room 
5: Ett Hem – Stockholm
Sweeden is one of my favorite countries to visit. The summer is light and the long dark winters are mysterious. The air makes the stylish swedes a country of understated sexiness! 
Ett hem means at home, but don't expect the white Scandinavian style. An extremely good taste of modernism and a beautiful touch of luxe is waiting for you.
Besides a very tasteful interior design decor by Ilse Crawford, what makes the experience of this hotel exceptional is the architectural layout of the townhouse. Imagine a big townhome, just for yourself, where you can relax and unwind. A real living room, a kitchen, and a garden, all beautifully decorated. A luxury experience of family living or even a home share.
Why would I sleep at this boutique hotel: To feel at home, and use a kitchen the same way I do it at home, with friends around.
Etthem.se | Stockholm | 6 suites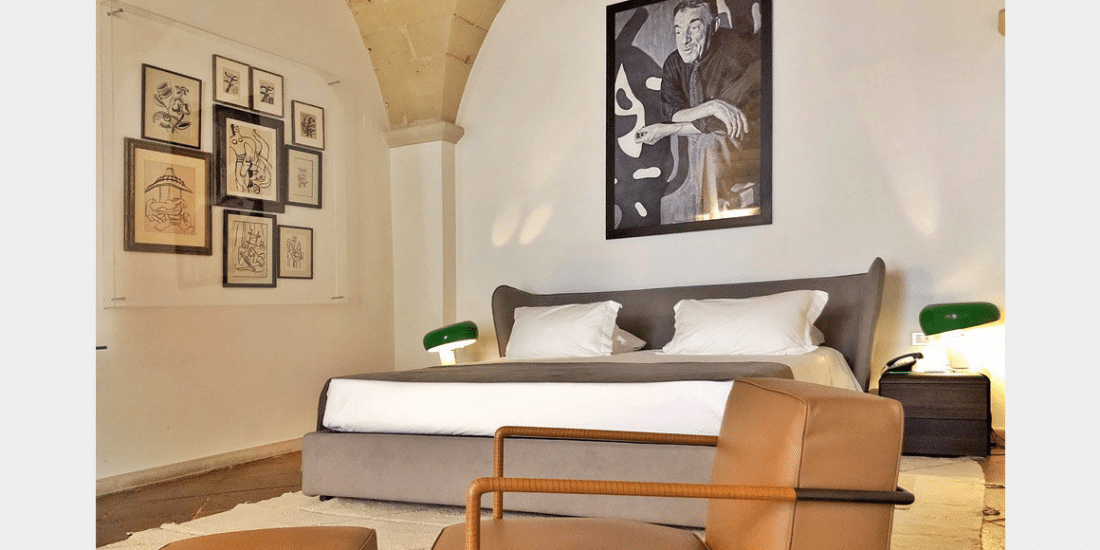 6: Palazzo Bozzi Corso – Lecce
This is why I love Italy! The south, the Apulia, the town of Lecce, a capital of baroque with strong Middle East influences. Something that just doesn't exist, anywhere else.
Typical of the post-renaissance era in Italy the palace is an example of architecture with meaning. The inner courtyard surrounded by beautiful facades is the quintessential beauty of Italian baroque. Although the suites have some funny names and sometimes a bit cheesy luxe. Personally, I like the Fernand Leger suite, with white/beige tones, and is more understated.
Besides the actual decor, the catch is the experience of waking up surrounded by a baroque building, with a garden for breakfast and dinner exactly like in the seventeen century! And this is exactly why I would choose to sleep here while visiting Lecce. 
Palazzobozzicorso.com | Lecce – Apulia | 10 suites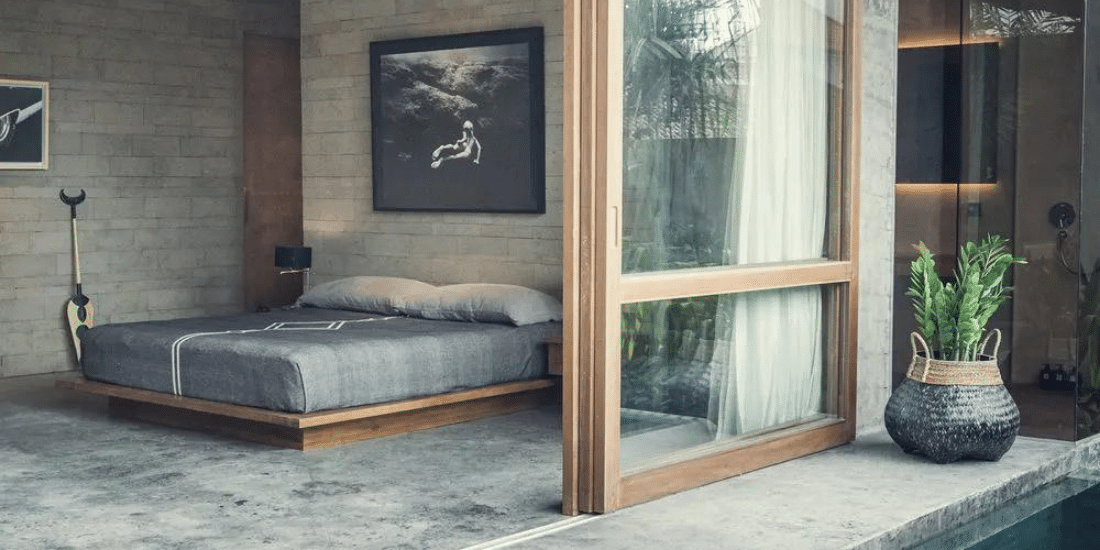 7: The Slow – Bali
First, I've got to admit, I love the logo. Although I wouldn't sleep here just for the logo, but when I saw it I knew I'd found a luxury Bali hotel. It's what I call good taste with invisible design. In others words a combination of urban minimalism with a strong local craft and authenticity coming from the tropical surroundings. The owner, an Aussie fashion designer, is my role model Hotelier!
Quoting him " I don't fill a gap in the market, I do what I love". There is something in common with the ACE hotel branding strategy, which is to be very independent and rooted in the local art scene. Adding here the tropical surrounding it makes it even more appealing. You find yourself wanting to discover more, touch and interact with every object, admire every piece of artwork or crafted cabinetry because each piece is placed intentionally and uniquely in the layout of the hotel.
The Slow in Bali is full of surprises. 
Why I would sleep here? To live a tropical experience in sheer style.
Theslow.com | Canggu, Bali Indonesia | 12 suites